2022 Salute Design Competition Publication Merit Winner
WHAT IS IT?
"I Hold You You Hold Me" is a book and following campaign focused on the artwork of Bo Logan and discusses the topics of obsessive-compulsive disorder (OCD) and borderline personality disorder (BPD). We focused on creating a body of work that that would hightlight Bo's story while normalizing and fostering discussions surrounding these topics.
FINDING AN ARTIST
For this project we were tasked with finding and collaborating with a creative from a diverse community. When looking for an artist after about 3 weeks in, due to a change in the project and personal reasons our artist at the time decided to pull out and we had to quickly find a new artist to showcase. This is where we stumbled upon Bo Logan aka Dr. Bolognie on Instagram. Bo is a LGBTQ artist based in Los Angelos, CA. He struggles with Borderline Personality Disorder and OCD, which he expresses through his art and manifests itself through lines and shapes.
In our inital conversations with him we wanted to know what his goals were with his art are and what he wanted to see come out of our collaboration. He was very interested in seeing his art in an immersive space and shared sentiments of wanting to educate others. This led us to create a coffee table-style book to educate people on mental health while using Bo as a narrator. To go along with the book, we created a surrounding campaign culminating in a book lauch at a physical space.
THE BOOK
The book is titled "I Hold You, You Hold Me", which is a quote pulled from one of Bo's pieces. For us this quote represents the connection that Bo had with his art and his mental health, a cycle of support. His art has helped him process and deal with his emotions and his past whether he is using it to reprsent things or just as a form of escapsism. The book itself is a curation of Bo's artwork, his own story, poems, quotes, educational material, and stories from others.The book aims to create a starting place for sometimes difficult conversations about mental health. The final product is entirely handmade, including the diecuts, spot gloss on the cover, and the stitched binding.
CLICK THROUGH THE WHOLE BOOK HERE
THE PHYSICAL SPACE
To accompany the book lauch was a physical space meant to be set up a at a book store or cafe. This installation begins to bring you in Bo's art with shapes from his projects coming down from the ceiling. The space acts as a catalyst for conversation. You can sit down and read the book here or discuss it with a stranger or friend. You could even have a meet and great with the artist. We really wanted to foster the beginning of conversations surrounding mental health.
Unfortunately due to the Covid-19 Pandemic we were unable to showcase the physical space in person. The space was supposed to come to life for our Fall 2021 exhibition.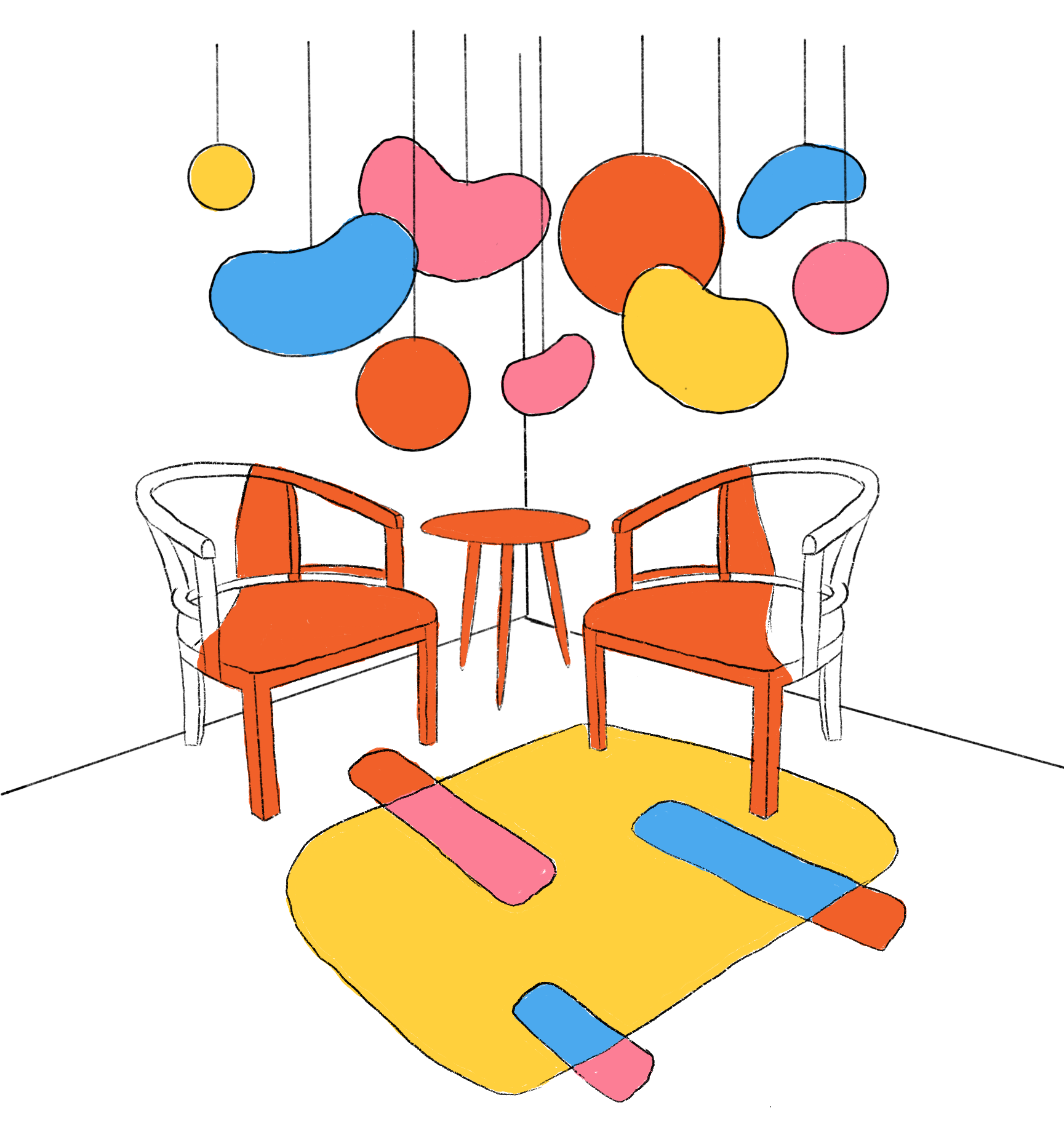 in collaboration with
Anna Gumaer, Cassie Baker, & Kristen Campion
and
Bo Logan aka Dr. Bolognie
Check out his work
HERE